Hebrides Lewis Stornoway tourism tourists holidays vacations angling bird-watching fishing walks walking ...... enjoyment!
telephone +44 [0] 1851 810699 fax +44 [0] 1851 810699
email ihp@ihpublishing.com internet http://www.lewisdiscovery.freeuk.com

Welcome to Lewis Off-Road Discovery! We can offer you sightseeing tours around Ness at the north of the beautiful Isle of Lewis, visiting cultural and historical sites with a Land Rover Discovery, all of them with an off-road theme that cannot be tasted with a ordinary bus, car or taxi. Best of all, you will be in total comfort in the Discovery, and can be taken by a Gaelic-speaking guide to explain the sights - you will be more than a tourist, and really discover our islands!!
Tours are available daily from Monday to Saturday - please book at least one day in advance. We offer three basic types of tour, all with fixed prices which can be shared by up to four people:
| | |
| --- | --- |
| | Delivery to the starting point of the coastal walk from Tolsta across the moor to Ness, at £50 per day, crossing Lord Leverhulme's 'Bridge to Nowhere' with the Land Rover Discovery. We will then pick you up south of Skigersta and take you back to your hotel. This option saves you the trouble of having to arrange cars at either end of this exacting trek, increases your safety because we will be awaiting your arrival, and takes away the tedious walking over rough tracks at either end of the tranquil moor walk. You will enjoy your day more! We can also supply a guide during the walk for an additional £25 per day. |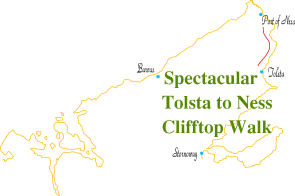 | | |
| --- | --- |
| | A daily tour of Ness in the north of Lewis, at £12.50 per hour, looking at a number of off-road sites. Some of these historical sites can be seen at a distance from a tour bus - we can take you up really close to these and any other off-road sites, and tell you about them, in comfort! |
Historical sites -
Butt of Lewis lighthouse Eye at the Butt of Lewis St Moluag's Temple
Local Historical Society Pygmy's Isle Carnan Geal
Tigh 'An Fiosaich Dun Eisdean Port of Ness harbour
Skigersta quay Cnoc Fianuis Loch Stiapabhat

Activities - [some dependent upon weather and cooperation from the animal kingdom ...!]
Peat cutting Sea-trout fishing Brown trout fishing
Bird watching Otter/Seal spotting Cliff top walking

Beaches -
Triagh Shanndaidh Port of Ness beach Stoth beach
Sport [as available to the public at Lionel School at extra cost ......]
Swimming pool Tennis courts Badminton court
Arts/Crafts
Morven Gallery Dell Crafts Borve Pottery
| | |
| --- | --- |
| | An extended island tour is on offer, at £10 per hour, where you can book our Discovery for more than one day. Let us know what you want - our vehicle can visit most places! |
Check out local news at http://www.reidio.com and at http://www.hebrides.com.
Hebrides Lewis Stornoway tourism tourists holidays vacations angling bird-watching fishing walks walking ...... enjoyment!